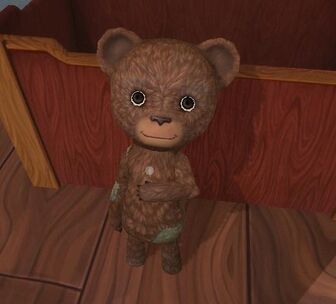 Teddy is the only ally in the game and accompanies the baby on his journey, giving him useful hints and tips. He was given to him as a present on his second birthday, presumably by the Father.
He may look strange from the look of his eyes, But much is not known about Teddy before he was given as a gift to the Toddler, however, green patches and stitches across his body suggest he may have had an owner before and was given away. He continues to help the player, despite his mildly distrustful appearance.
In The Game
Edit

After answering the door to an unknown caller, the mother hands her son a birthday present: A teddy bear, and then leaves him upstairs in his bedroom with the new toy. The teddy bear was alive, and he introduces himself to him by his name. After a few minutes of playing together, they go to the closet, where the boy started to have scary visions. he explains that if the he ever gets scared in the dark, he can hold him and that will help him feel more safe. Hugging Teddy produces illumination to help the child see in dark areas. Later, the mother puts her son to bed, but he wakes in the night to find that teddy has been taken, and that his mother is gone. After finding him in a washing machine, the boy and him journey through a variety of paranormal and supernatural areas, with a recurring theme of disturbing hidden drawings, bottles of wine being scattered over the floor,and move in boxes. to try and find the mother, and seek out memories which can help them. While trying to find memories, they were hunted by monsters with a similar look, which scares the boy, apparently created after a woman has drunk. The only comfort the boy can take from the monster is him, who will reassure him and hug him.
In the last area, the boy will hear his parents arguing over their divorce, and who has the right to bring up the son. After the last memory was found, he is captured by the monster and his arm torn off.
The demons chasing the boy was in fact the abusive mother who had been tormenting him for two years and the father trying to take him away from her. He is also the present given to the boy by his father, who in fact cared for him more than the mother.
Once the memories are completed, the boy will return to the house, in which they will find the mother crying in the kitchen after having torn off his arm. Trying to recover Teddy, the mother pushed her son and apologize before she resumes to sob. Hearing the doorknock, he will pick up Teddy and opens the door. A male voice can be heard, who happily greets the boy and says that he will fix him.
Personality
Edit
Smart
Obviously intelligent
Helpy
Cute